Thank you for your interest in appearing on The Fit Mess, a Mental health and Mindset podcast hosted by speakers, coaches, and entrepreneurs Jeremy Grater and Zach Tucker.
Launched in 2017, Jeremy and Zach have interviewed countless experts in the fields of trauma, mindset, coaching, yoga, recovery, and more.
The podcast is heard in over 70 countries, and ranks in the top 5% of all active podcasts!
Previous guests Dave Asprey, Shaun T, Tony Horton, Gary John Bishop, Sharon Salzberg, Daniel Siegel, and more amazing people! Each week the show grows more and more as The Fit Mess continues to IMPACT and EMPOWER people worldwide.
Click the button below to apply and please note that we receive hundreds of inquiries each month for 4 available spots.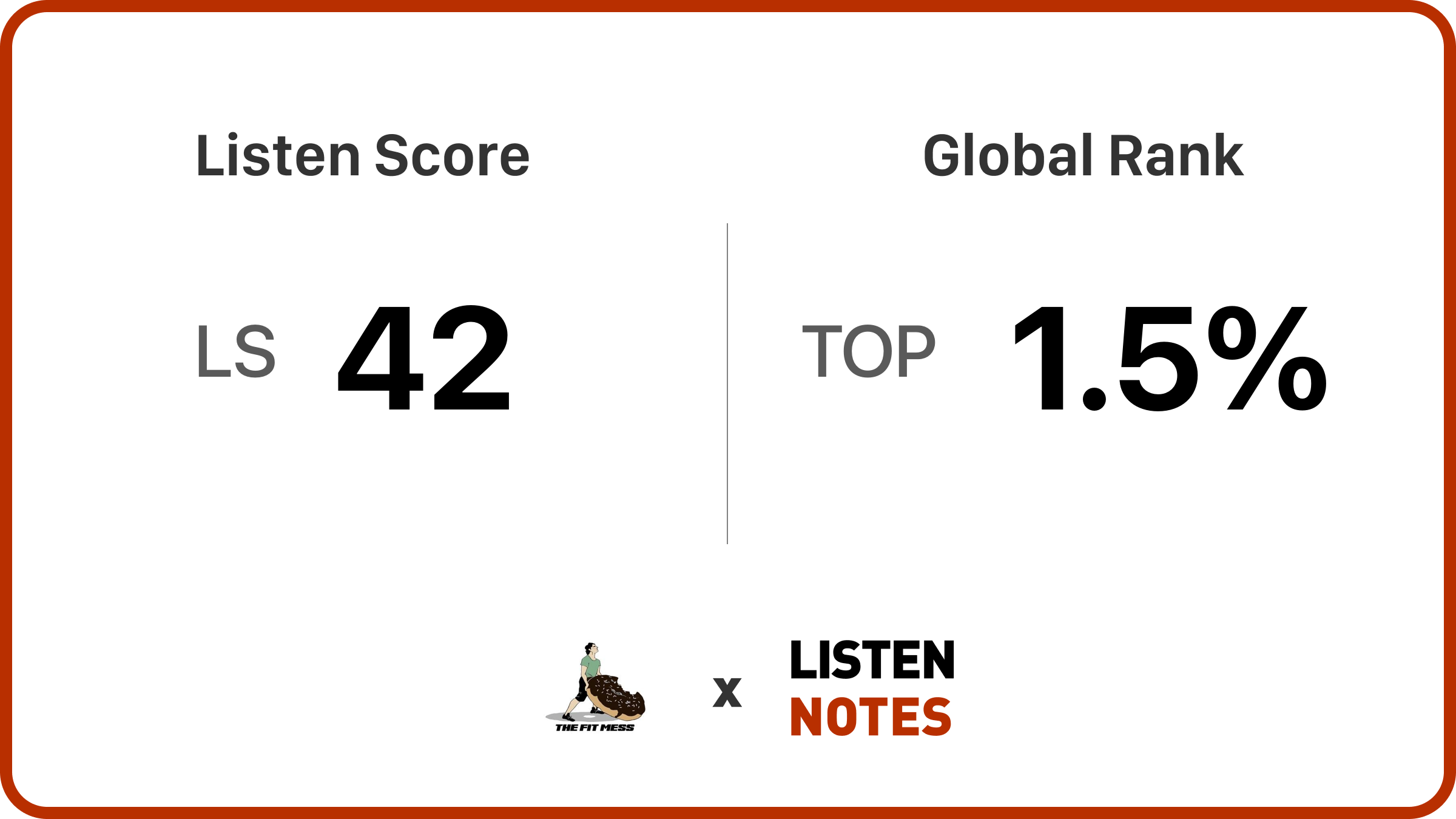 Past guests include:
Dave Asprey - Founder and Chairman of Bulletproof 360
Shaun T - Celebrity Fitness Trainer
Tony Horton - creator of the best-selling fitness series: P90X®, P90X2®, P90X3®, and Ten Minute Trainer®
Gary John Bishop - Personal Development Expert
Sharon Salzberg - Co-founder of The Insight Meditation Society
Daniel Siegel - Clinical Professor of Psychiatry at the UCLA School of Medicine and Executive Director of the Mindsight Institute
and more!
An appearance on The Fit Mess includes:
A featured 30-45 minute interview on The Fit Mess covering your expertise.

Full interview posted on all major podcast platforms and YouTube.

You will be able to provide a call to action to a product or service of your choice!

A complete show notes page on our website.

An email to our entire audience with a link directly to the show notes page.

Multiple social media posts on Facebook, LinkedIn, TikTok, and Instagram.

Digital advertising spend to promote your episode on Facebook, Instagram, YouTube, and Google Ads!
The Fit Mess Stats
In the top 5% of all active podcasts!

Listeners in over 70 countries!

Average listener age 25-54

Episodes air weekly



Why The Fit Mess requires an appearance speaking fee
The Fit Mess is entirely self-funded. The show does not have brand sponsors. This fee helps cover hosting, equipment, content creation, and more. Most people don't understand that it can cost 10's of thousands of dollars to run a podcast. Your fee helps us keep the show running, creating new content, growing listenership, and making a real impact in the world.
We use ad spending to promote the show online. Unlike 95% of podcasts, we will promote YOUR episode with digital marketing dollars. After more than 20 years in this business, I know the power of this. Your fee helps gets more attention to your episode!
The Fit Mess is run entirely by Jeremy and Zach. They edit the show, create content, make the transcripts, post the episodes, share on social media, onboard and offboard guests, and everything else that it takes to run a show. Your fee helps support this.
Guest quality is everything for The Fit Mess. Having the fee helps to ensure that only change-makers who are serious about sharing their message, voice, offer, and expertise with our listeners get one of our few monthly spots.
FAQ
How long will we record?
Recordings will typically be 30 to 45 minutes.
When will my episode air?
Episodes go out in the order they are recorded. If you have a big event, promotion, book launch, or program starting then let me know and we can see about moving you up if it makes sense for everyone.
What kind of equipment do I need?
Ideally, you will have a podcast quality mic and 1080p webcam-we record video too. If you do not have this a pair of iPods or quality earbuds will do the job!
What if I need to reschedule?
Not a problem, let us know.
Will you send me the graphics and video clips you make?
Yes, we will send you the completed episode page, graphics, and video clips that you can use for all of your social media channels!